When you think about wearing a nose pin it is only an old Indian tradition but a kind of fashion statement. The same goes for the Yellow Gold Diamond Nosepin that is available online. The moment you talk about the lifestyle of a woman it is associated with both fashion as well as religious aspects. It is worn not just during weddings but is loved by all Indian women and they wear it during ceremonies and occasions in order to shine out. There are a variety of diamonds nose pins that are available online.
Below are the top fashionable diamond nosepin designs that are available online
As diamond nose pins are gaining a lot of popularity these days. Following are the types of diamond nose pins that you can find online:
Septum Nose pins
These types of diamond nose pins are taking the world by storm due to their beautiful look and bold appearance. Women all over the world are trying to express themselves in a very unique way so these types of nose pins are going to redefine the art of fashion.
Star and blossom nose pins
When it comes to style everyone wants to look extremely elegant. This diamond nose pin is a gorgeous blend of blossom and star shape that is huge becoming a piece of favourite jewellery for every woman. It looks extremely glamorous and sophisticated when women wear it on occasions like festivals. As well as it is also worn during day-to-day activities. When you wear a diamond, it shines and gives a pure glow to your face.
Nose pins with cluster design
There are times when you want your nose pin to go well on every occasion as well as with whatever attire you are wearing. This is why cluster design diamond nose pins are in huge demand. The moment you wear it makes a great fashion statement. Further, it is not that flashy and can be worn with casual clothes. Cluster design nose pins are extremely trendy and once you wear you will always receive compliments.
Nose pins with floral design
The floral designs always symbolize gracefulness and women have always been in love with them. So, a diamond pin in a floral design is something that you don't want to miss. When you choose floral nose pin designs in diamond it goes with all the styles and raises the fashion quotient.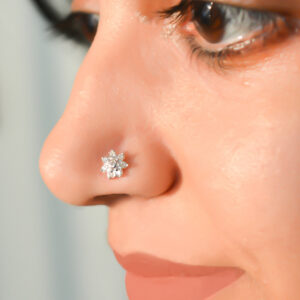 Minimum diamond nose pin designs
There are times when less is considered to be more. So women wear diamond nose pins that do not seek so much attention but nonetheless looks very gorgeous. This type of diamond nose pin is becoming extremely popular with people who are office goers or are going for short outings.
You can stun everyone by wearing Yellow Gold diamond nosepin from Dishis designer jewellery. Other than that, you will get multiple varieties in terms of nose pins.  Each piece of nose pin has been created with a lot of care and passion so don't give up the opportunity of availing Yellow Gold diamond nosepin.