Rose Gold Diamond Rings
Rose Gold Diamond Rings have a beautiful lustre that is moderate and warm. They are a perfect alternative if you are trying to avoid the higher price tags of platinum and white gold.
There are two types of Rose Gold Engagement Rings: alloy and pure metal. The pure metal is more costly than alloy, but it shines much brighter than alloy. If you plan on wearing yours every day, it would be better to invest in a pair. These rings that are made from real metal.
In this article, we're going to cover the physical and emotional reasons why rose gold engagement rings are so in-demand.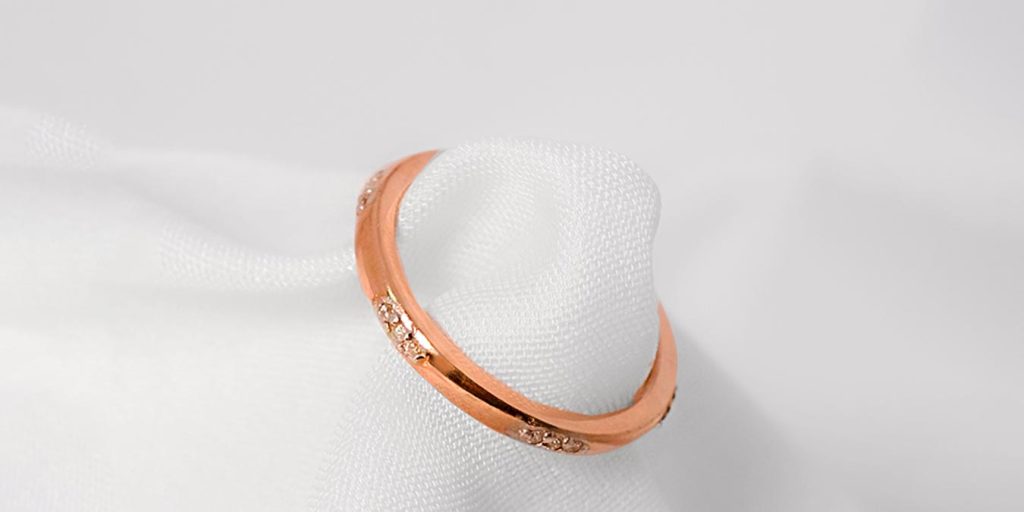 Rose Gold Rings Over the Years
The idea of using rose gold for an engagement ring is not new. It's been around for some time now. The trend began back. In the 1930s when Duke Karl von Metternich proposed to his girlfriend with a rose gold ring set with diamonds.
Since then, more celebrities have picked up on this trend, like Scarlett Johansson's engagement ring from Ryan Reynolds.
Roses have always been associated with love and beauty. that is one of the explanations. Why this colour is so popular when it comes to rings and other jewellery pieces as well. But there are more reasons why people love them so much:
1) Rose Gold Rings Have A Timeless Appeal
Rose gold has long been associated with royalty due to its history of being used by queens and kings.
The style of these rings can be traced back to a particular design. The Victorian era, but rose gold rings have been popular recently.
The popularity may be due to their colour, which is often associated with love and relationships. For some couples, it feels like they are getting engaged again every time they put on their rose gold rings. Rose gold engagement rings can go with a variety of colours and styles. So no matter what your taste is or what kind of wedding you're planning. There is a rose gold ring that will make you say "yes!"
2). Halo Engagement Ring
This type of ring consists of a single diamond mounted on a frame. It is not as expensive as other types, but the halo provides an elegant and minimalistic look.
3). Classic Engagement Ring
This is the most traditional type of engagement ring. For many people, it is the only type that makes sense. The classic engagement ring has a full stone mounted on a simple band. This type of ring is not too flashy or garish, but it still adds some bling. Your hand and finally proves that you are engaged!
4). Solitaire Engagement rings
The solitaire diamond engagement ring is exactly what it sounds. One round diamond in the centre with nothing else around it on the band. This style of engagement ring seems to be best suited for someone who wants something beautiful. Simple, and dainty in their hand at all times without looking too flashy or overbearing.
When it comes to engagement rings, there is a variety of styles that you can choose from. It is important to be aware of the differences. So, you can find the style that speaks to you and your fiancé.
Just like there are many styles of engagement rings, there are also many different types of rose gold engagement rings. One common distinction is between vintage rose gold and pink rose gold. The vintage style will have a classic feel and look, antique ring while the pink style will have a more modern feel.
Why Choose Diamond Gold Rose Ring?
Diamonds are the most popular gemstones used in engagement rings. They are also the most expensive as well. If a person wants to get a diamond engagement ring and is on a budget. They have many options to choose from including different colour gems such as pink sapphires and blue sapphires.
There are many shapes of rose gold engagement rings to choose from including round, square, oval, heart-shaped and more. There are two types of rose gold – red-toned or yellow-toned.
Which is the best diamond shaped metal?
A round-cut diamond is the most popular choice of shape for gemstones in general. For rose gold metal, an oval cut would be best suited to the metal.
Different people have different tastes when it comes to the shape of a diamond. Some people prefer a round-cut diamond, while others prefer an oval cut. With that said, in terms of a rose gold metal, we recommend an oval cut.
In terms of the stone shape, a round-cut diamond is the most popular option for all metals and stones alike. A round cut is also typically more expensive than other shapes like an oval or square. It has more facets which result in increased sparkle and brilliance. We would not recommend a round cut because it will make your rose gold colour scheme look too light. As opposed to if you had chosen an oval or square cut. It will add more shine and elegance to your outfit.
White Gold
The ideal diamond shape for rose gold metal is different from the one for the white gold metal. For the latter, it should be round or oval and for the former. It is best to choose a marquise or pear-shaped diamond.
The size and cut of the diamond also play a role in choosing its shape. A larger diamond will look better in a round or oval shape, while smaller diamonds work welL. All shapes including heart-shaped and pear shapes.
The round diamond shape is the best for rose gold metal jewellery. The Round cut is the best for rose gold because it reflects light, sparkles. It has a classic look that goes with everything.
Final Verdict
So here are your options for modern jewellery options to style them differently. You have to be choosy. Some fashion trends come and go but if you want to look perfect. You should follow these amazing jewellery ideas to stay on trend.