Bollywood actress Parineeti Chopra and Aam Aadmi Party leader Raghav Chadha tied the knot in a dreamy ceremony in Udaipur on September 24, 2023. The couple opted for a pear-themed wedding as mentioned in their wedding card and going by the theme, both of them were seen wearing shades of whites, ivory and gold. The wedding was attended by several family members, friends and politicians from both sides. Parineeti took to her Instagram and shared glimpses of their wedding 
The Wedding Outfits
Parineeti looked stunning in a golden lehenga by designer Manish Malhotra, which featured intricate embroidery and sequins. She paired it with a matching dupatta that had a long train with her that had pearl border, and featuring the groom's name, Raghav in Devnagari script in Zardozi. She accessorised her look with a diamond necklace, earrings and maang tikka which is believed to be from Manish Malhotra's Jewellery line. The necklace was a polki set which was multi-layered studded with uncut and polished diamond and emeralds in a pastel green antique shade. The maang-tikka with two humongous stones complements the look perfectly, without taking away from its beauty. Her makeup had a natural glow with nude lips and smokey eyes. She also accessorized her look with pink chooda , golden kaleeras and lehenga latkans which made her look a new weddinginspo .
Raghav looked dapper in a white sherwani by Raghavendra Rathore, which had gold buttons and a bandhgala collar. He wore a white safa on his head and a white stole around his neck. He completed his look with a pair of tan shoes and a gold watch.
The couple exchanged garlands and took the seven vows around the sacred fire at The Leela Palace in Udaipur. The wedding ceremony was conducted by Pandit Rajesh Sharma, who also performed the rituals at Parineeti's cousin Priyanka Chopra's wedding with Nick Jonas in 2018.
The Wedding Festivities
The wedding festivities begun from ardaas at Raghav's house in Delhi. The couple then flew to Udaipur for their grand celebration. They hosted a Sufi night along with a 90s themed DJ party on Saturday, where they danced to the tunes of Navraj Hans and DJ Sumit Sethi. Parineeti wore a black lehenga by Sabyasachi for the Sufi night, while Raghav wore a black kurta-pyjama by Rohit Bal.
After the wedding ceremony, the couple hosted a reception for their close friends in Udaipur. Parineeti wore a pink saree by Sabyasachi for the reception, while Raghav wore a black suit by Hugo Boss. The couple cut a three-tier cake and posed for the paparazzi.
The Wedding Guests
The wedding was attended by many celebrities and politicians from both sides. From Parineeti's side, her parents Pawan Chopra and Reena Chopra, her brothers Shivang Chopra and Saraj Chopra, her sister-in-law Neha Chopra, her cousins Meera Chopra and Mannara Chopra were present. Although her sister Priyanka Chopra missed the wedding due to prior commitments but left a heart-warming note for her little sister. Her friends from the industry such as Sanya Mirza, Alia Bhatt, Kareena Kapoor Khan, Anushka Sharma, Varun Dhawan, Sidharth Malhotra, Arjun Kapoor, Aditya Roy Kapur, Shraddha Kapoor, Ranveer Singh, Deepika Padukone, Sonam Kapoor Ahuja, Anil Kapoor, Karan Johar, Farah Khan and others also attended the wedding.
From Raghav's side, his parents Ajay Chadha and Neelam Chadha, his sister Radhika Chadha were present. His friends from politics such as Delhi chief minister Arvind Kejriwal, Punjab chief minister Bhagwant Mann, Aam Aadmi Party MP Sanjay Singh and others also attended the wedding.
Looking for Parineeti Chopra like Jewellery
When it comes to wedding jewellery that exudes elegance, sophistication, and a touch of Bollywood glamor, Dishis Designer Jewellery is a name that stands out. If you're looking to achieve a bridal look reminiscent of the stunning Parineeti Chopra on her wedding day, then Dishis Designer Jewellery should be your first choice.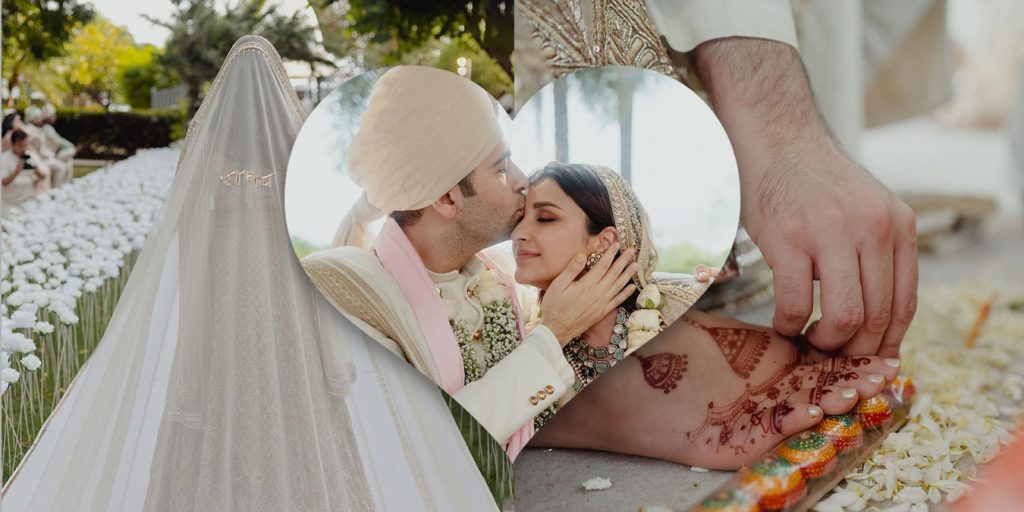 Why Choose Dishis Designer Jewellery?
Impeccable Craftsmanship: Dishis Designer Jewellery takes pride in its impeccable craftsmanship. Each piece of jewellery is a masterpiece, meticulously designed and crafted to perfection. The attention to detail in every design is what sets them apart from the rest.
Wide Range of Options: Whether you're a fan of traditional, timeless jewellery or you prefer a more contemporary look, Dishis offers a vast array of designs to suit every taste and style. From classic Kundan sets to modern diamond pieces, they have it all.
Quality Materials: The brand uses only the finest materials, including high-quality diamonds, precious gemstones, and pure metals. This ensures that your jewelry not only looks stunning but also stands the test of time.
Customization: Dishis understands that every bride is unique, and their jewellery should reflect that. They offer customization services, allowing you to create a bespoke piece that matches your vision and style perfectly.
Affordability: While their jewellery is luxurious and of the highest quality, Dishis Designer Jewellery also offers options to suit various budgets. You can find exquisite pieces that won't break the bank.
Must-Have Pieces for a Parineeti Chopra-Inspired Look:
Polki and Kundan Sets: Embrace the timeless elegance of Polki and Kundan jewellery, which Parineeti Chopra herself wore on her wedding day. These pieces add a touch of vintage charm to your bridal ensemble.
Diamond Chokers: Achieve the ultimate Bollywood glamor with a statement diamond choker necklace, just like Parineeti's. It's the perfect way to draw attention to your neckline and add a touch of luxury.
Jhumka Earrings: No bridal look is complete without a pair of stunning jhumka earrings. Dishis offers a wide range of designs, from traditional to contemporary, ensuring you find the perfect match. Checkout the designs like Aanya gold earrings.
Mang Tikka: Adorn your forehead with a magnificent mang tikka that beautifully frames your face and adds a regal touch to your bridal look.
Haath Phool and Kaleeras: Don't forget to accessorize your hands with intricate haath phool (hand jewellery) and kaleeras. Dishis Designer Jewellery offers a variety of designs to choose from, allowing you to add a personal touch to your wedding attire.
Solitaire Rings: The most charming piece of Parineeti was her wedding ring which was a large solitaire ring. If you are looking for a perfect solitaire ring, Dishis Designer Jewellery offers a variety of options in solitaire rings like Raahi diamond Ring.
In conclusion, if you want to channel the elegance and beauty of Parineeti Chopra on your wedding day, Dishis Designer Jewellery is the go-to destination for bridal jewellery. With their exquisite craftsmanship, diverse range of options, and commitment to quality, you can trust them to help you achieve a bridal look that's nothing short of spectacular. Make your wedding day a truly unforgettable experience with jewellery that radiates grace, sophistication, and Bollywood charm.