In Indian culture, Mangalsutra is having very strong significance. It says that at the time of the wedding. when the husband ties the mangalsutra around her bride's neck then it is for the protection of the couple's happiness and health from the evil eye. Basically, it's a thread of protection and love towards each other. But designer mangalsutra become the fashion statement these days. As millennial women become very choosy for their mangalsutra design.
Designer Mangalsutra Design in Gold
The new brides looking for fashion come with comfort and style with elegant designs and unique styles. And, gold mangal sutra is the choice of every woman embedded with diamonds or a precious stone. Who is planning to get married. Gold mangalsutra with short chains with black beads is the perfect choice for you. Small mangal sutra never disturb you. While working and also give a minimal subtle look to your personality. And sounds like a pendant with a classic chain for your dress. Even can be styled with other pair of jewellery. And for parties can be worn with some neckpiece as well.
The modern mangalsutra design at Dishi Jewels is the perfect blend of traditional attributes. And the essence of modern gold Mangal sutra design. Design by making the point in consideration of minimalist pattern with detailed design in it. Which is eye-catching and added character to the personality as well.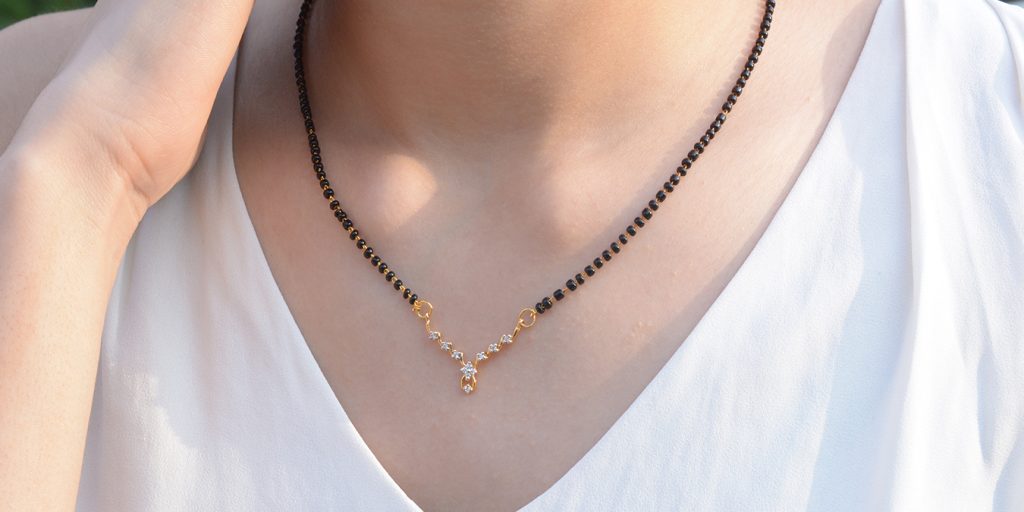 Modern Mangalsutra Designs
Modern mangal sutra designs embedded with leaf-style gemstones or big clusters of diamonds are in trend and liked by many women for daily use. You can go for a which gold chain with black beads and a white diamond piece in the center, it is one of the simple and never goes out of fashion designs in managalsutra.
Here are some most trending designs of gold mangal sutra for women which will definitely help you to choose your perfect match.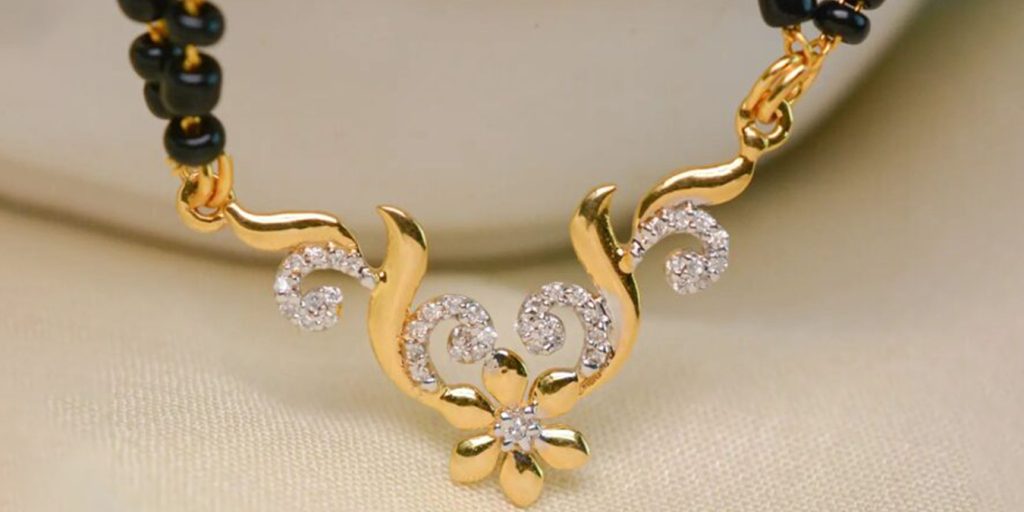 Diamonds for life
The love for diamonds never fades away even in the dark thunderstorm. Diamonds never go out of style and trend. It is an all-purpose stone. If you are someone looking for minimal and sober mangalsutra for yourself then you must choose the modern mangalsutra design made with diamonds and even a single diamond in the center of the black beads of the chain looks marvelous and shining on your neck. And if you are an office-going woman then no other piece of jewellery can beat it for sure as it gives a very formal yet strong look to your personality.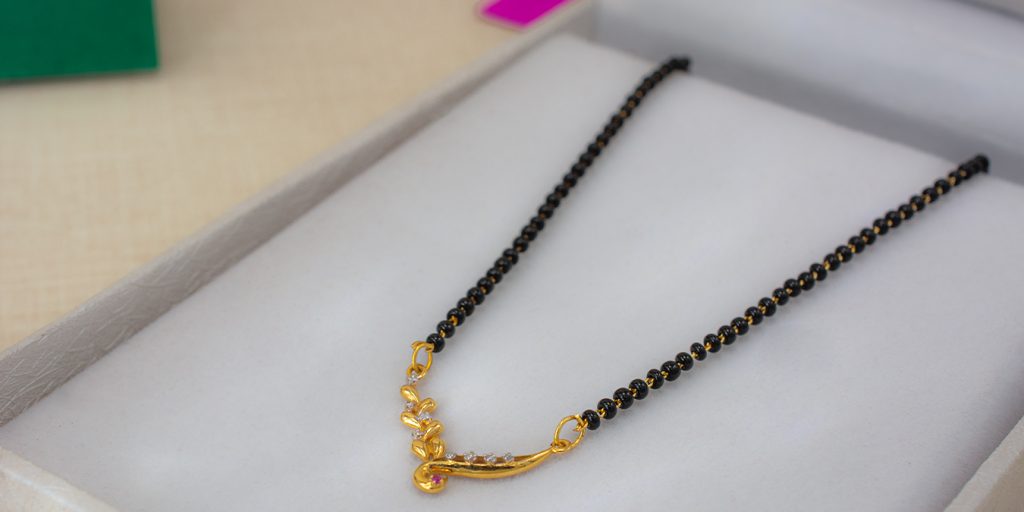 Love for flowers
If you are someone searching for a pendant-style mangalsutra having a nice detailed design in the middle of the chain-like shapes of flowers or stars which gives the look of chick-style jewelry pieces, then blindly you can go with these broad pendant-style gold mangalsutra.
Leaf style Mangalsutra
Leaf design mangalsutra is very popular among women who would like to wear a multi-stylist neckpiece for any party or event. This latest mangalsutra design gives a blend of neckpiece as well as mangalsutra. It is made up of a gold chain with black beads and a beautifully detailed design neck piece in it.
In case you are not too much fond of black beads then you can also go for a white gold chain embedded with a very small number of black beads which fulfills the traditional requirement and is also perfect for stylish women.
You can easily substitute your necklaces but cannot substitute your Mangalsutra with anything.
Wear what you like and how you like. Secret mantra of fashion.