Peridot came into existence after the French word "Peritot" meaning gold. As this stone varies in terms of color. When it comes to August it is the birthstone of the month. The moment you talk about it its history of existence is very long. The mining of this stone is recorded around 1500BC by the ancient Papyri. The source of Peridot was first found on Topazo island located in the Egyptian Red Sea. During ancient times Peridot stones were collected for the Pharaoh's treasury. The story continues as workers work day and night because the radiance of the jewel can be felt during the nighttime.
 Science and physical properties of Peridot
It as a stone has an oily sheen to it. The color of Peridot can be described as yellowish-green, green with a golden tone, bright light green, and so on. There are a lot of portions of iron present in it. But if the green is darker then the presence of iron is less. The color is exceptional and very natural. It came into existence with the solidification of earth. Its deposits are located in places like Egypt as well as Burma. Further, it has been observed that Peridot appeared in a limited number of locations like it is found in silica poor igneous rock that includes gabbro, basalts, and so on. The places where Peridot can be found are China, Brazil, Norway, Hawaii, and so on.
 Best way to take care of Peridot Jewellery
The ideal way to take care of it is with the help of soap and water. Peridot needs special care as it may get damaged while a change in temperature.
If you are on the lookout for Jewellery then go beyond Dishis Designer Jewels. There are plenty of products available that will suit your taste. There are beautiful pendants available in form of Peridot jewellery. Following are the type of jewellery that you can browse:
 Luminesse mermaid diamond pendant
It is a beautiful piece of Peridot jewellery. It is made up of gold, diamond, and peridot stone. The look of it is gorgeous.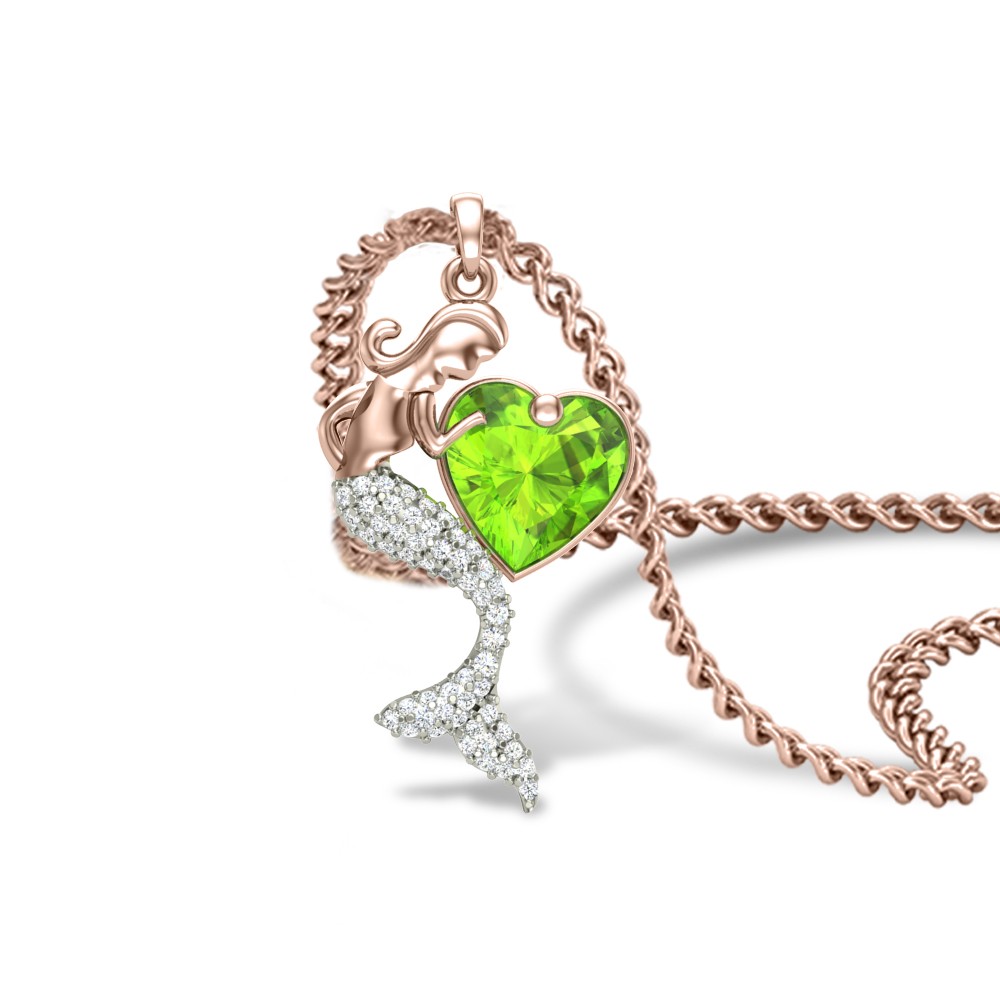 Disha diamond pendant
 It is another dazzling piece of jewellery from Dishis Designer Jewels. This jewellery is beautifully crafted keeping modern women in mind.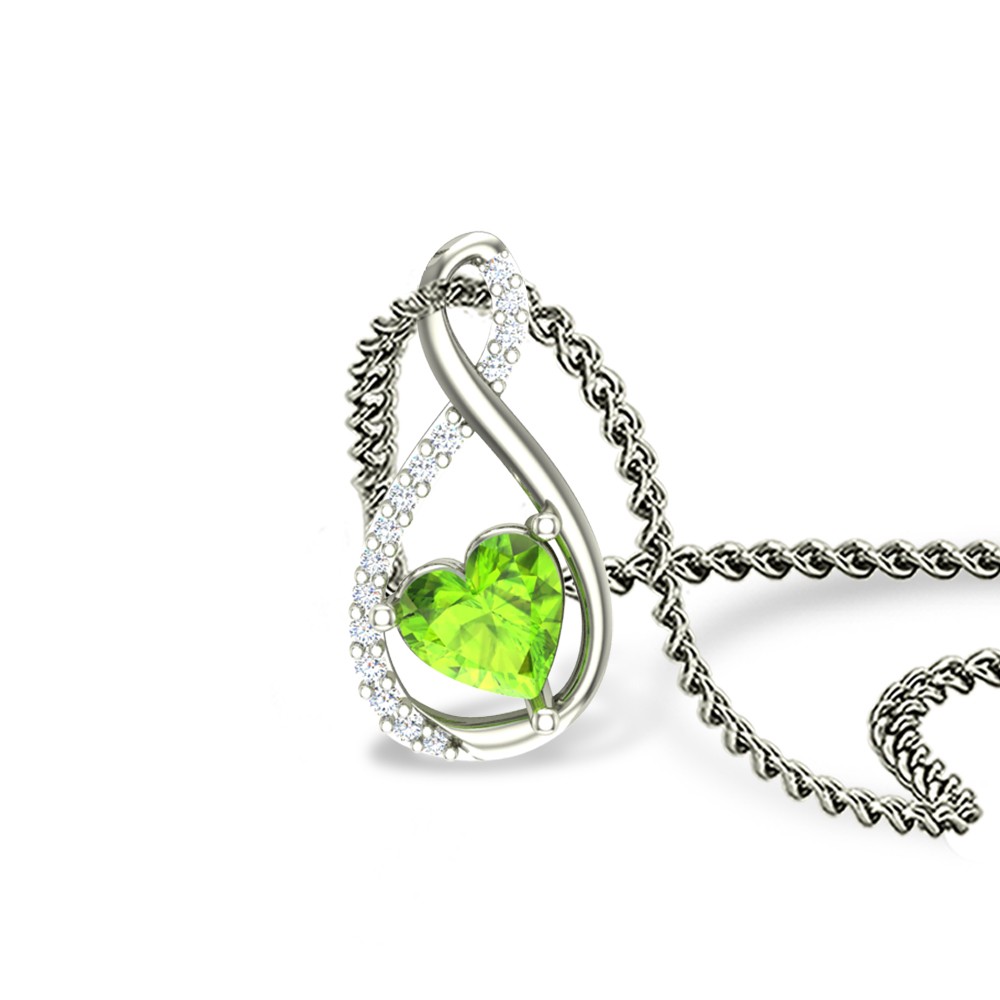 Cheers life mermaid diamond pendant
It is a stunning piece of jewel made with pure diamond and Peridot stone. The design is absolutely exclusive and cannot be matched with other jewels.
 Anushree diamond pendant
It's a classic pendant with a beautiful design. It has got genuine diamond as well as peridot stone. At Dishis Designer Jewellery you will find masterpieces in terms of Peridot jewellery. This harmonious blend of color enhances the look of all the pendants made with peridot. So, shop at Dishis Designer Jewels to enjoy this grandeur.
 Is Peridot Naturally Occurring?
Yes, Peridot is naturally occurring. It is found in silica-deficient rock such as volcanic basalt and pallasitic meteorites. It is one of the two gems not found on the earth's crust but present in the molten rock of the upper mantle. The gem quality of It is very rare and is difficult to find on the earth's surface but it is available on the molten rock of the upper mantle crust.  
Check out the natural occuring video : View Now
 Why does august have three birthstones?
Peridot, Spinel, and Sardonyx are the three birthstones of August. Here the most important one is Peridot. It is observed that Peridot stone is created in extreme conditions as it can be found in lava that is hardened and it is carried from deep within the earth's mantle as well as the meteorite that is travel from the Outer space. This august stone is valued in many ancient and medieval cultures. 
Peridot National gem of Egypt
When you talk about Egypt Peridot is the national gem. The Egyptians were aware of it as the "gem of the sun". On St John's Island, It was mined as early as 3,500 years ago. During the 19th century, there was a monopoly on the mines of Peridot by the Khedive of Egypt. Zabargad is an island located in the Red Sea. This island is situated 35 miles from the Egyptian coast of Berenica. During the 19th century, Zabargad island produced worth millions of dollars of It. The production of gems peaked during 1905 but till 1958 nothing was produced till the time the mines were nationalized.
 Some more information
The old name of Peridot was Chrysolite. The term chrysolite was used when people didn't have the ability to identify the stones. Sometimes it was considered topaz till the time people didn't know the difference. Once upon a time in Europe, there were large Peridots in the cathedrals.
It also symbolizes many things like it protects the wearer from the evil eye. Further, it is believed that it brings happiness and attracts good lovers. Peridot looks dull during daylight but at night it burns like a hot coal.
 Healing powers of Peridot
Compare to other gemstones the color of it is related to different parts of the body. Due to its yellowish-green color, Peridot is supposed to cure liver diseases and difficulty with digestion. It as a stone helps in detoxification of the kidney, bladder, gall bladder, and stomach. Further, it cures illnesses like ulcers and irritable bowel syndrome. It also has a tonic effect as it strengthens metabolism and is good for the skin. Lastly, it helps to solve the endocrine problems.
 It helps psychologically
Peridot is excellent when it comes to treating psychological problems. The stone is great for someone who is undergoing depression. The stone is light that counters all the negativity of life. It balances the emotional release and brings you a lot of comforts. The color of the ring calms the nervous system and helps to promote sleep. Further, it also balances bipolar disorder and enhances one's self-esteem as well as ego. In the case of children, It has a great effect. It can help to overcome hypochondria and security in a child who has fear of the dark. Lastly, It represents wealth and financial success.
Peridot is one of the acient popular stron generally called as Ghritmani in Hindi. Peridot is olive green in color and considers to be a semi-precious stone that is worn to promote excellence, good communication skills, and, healthy life for the wearer. Peridot is thought to have come from alien sources, according to an old myth. The sole gemstone from another planet, peridot was found in several meteorites that have fallen to Earth. Peridot, which is known as the birthstone of August, is a dependable companion for people who were born in that month. The jewellery made of Peridot is known as green gemstone jewels. It is the only gemstone that comes in single green color just with some color enhancements from an olive green color to parrot yellow shade green color.
This semi-precious gemstone is a sign of loyalty, happiness, strength, power, and honesty.
The Therapeutic Nature of Peridot stone-
Positive energy is reported to be present in peridot stone. For this reason, wearing this gemstone can be extremely beneficial for those who are going through times of high emotional stress. Peridot stone has calming properties that can help with anxiety and nervousness.
Also thought to bring out the best in people, this gemstone. People who wear this stone may have unwavering affection for others and achieve harmony in their interpersonal and professional relationships. Peridot stone can help you fight against negativity, which also lifts your spirits and makes you grin.
Although some people assert that wearing peridot jewellery in form of rings or earrings or pendants helps speed up the body's recovery from negative surroundings and perceptions.
Way to style Perodit jewellery-
Perodit is a multifaceted gemstone which can be incorporated into your multiple jewellery pieces with elegance and for sure gives an eye-catching look, this green color gemstone suits perfectly well with any or every type of outfit as it gives the contrast appealing look to the personality and counts under cool colors. You can add this gemstone as a pop color to your earrings or a big studded ring looks sparkling with your outfits. This gemstone is a personal favorite of celebrities to wear at cocktail parties as it gives a very sophisticated and diva look while at the same time feels like a queen's choice. This gemstone takes center stage by wearing a bold statement necklace or cocktail ring featuring peridot.
In jewellery styling period stone is very popular in silver rings as it's a belief that it goes well with it but if you are fond of these precious gemstones then you can also incorporate it in gold, white gold, or platinum as well with no doubt and looks equally magnificent. And can wear it for a long with your style. It is for sure that the craze for this gemstone never fades ways and decreases. Although peridot is the birthstone for August, it can still be worn by those who were not born in this month. Regardless of when you celebrate your birthday, you can wear peridot jewellery!
The Peridot's Special Beauty
August birthday celebrants are fortunate to have such a breathtakingly lovely gemstone. The vividly colored gemstone peridot has a deep significance and a long history. Take delight in your peridot jewellery!